News 2010
| | |
| --- | --- |
| 01 August 2010, Opening of Rosalie Bay Resort in Dominica! Rosalie Bay Resort will be powered almost entirely by natural energy by a Norwin 225 kW wind turbine, which wil generate up to 70% of the resort's energy! Read the full press release by clicking the picture below. Visit the Rosalie Bay Resort website: www.rosaliebay.com! | |
| | |
15 July 2010, Aeronautica will reverse the trend of sending cash, tax credits and thereby American jobs overseas by building high-quality Norwin turbines in America - Read the press release in full HERE

21 June 2010, Norwin signed yet another cooperation agreement, this time with the British independent renewable energy specialist Senna UK Ltd.

To learn more about Senna UK - press the logo!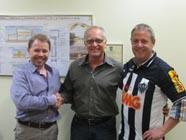 30 April 2010, Press Release on the Norwin/Tecnometal licensing agreement. To read the Press Release, press HERE
03 May 2010, Norwin signed a cooperation agreement with the Dutch installation and service company Wind Turbine Service (WTS b.v.).
With this agreement, WTS b.v. and Norwin A/S are officially entering into a cooperation to sell, install and service Norwin wind turbines in a number of countries. The parties will e.g. follow repowering projects in The Netherlands, new installations across Europe as well as in regions where WTS b.v. already has a strong presence; like in Indonesia.
WTS b.v. has been in the market for wind turbines for many years and Norwin expects that this experience will be a good foundation for improving Norwin's market presence in Europe.
To learn more about WTS - press the logo!

Ole Sangill, Marcelus Ara˙jo and Finn Alsgren
29 April 2010, Norwin signs Cooperation Agreement with Italian company Societa Elettrica Italiana
On 29 April 2010, the Italian company Societa Elettrica Italiana (SEI) and Norwin signed a cooperation agreement. SEI will from now on be selling, installing and servicing Norwin wind turbines in Italy. The agreement covers the 750 kW and 225 kW wind turbines. However, special attention is being paid to market the 200 kW wind turbines, which suit many potential investors in Italy perfectly due to its size.
To read about SEI - press their logo!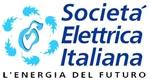 15 April 2010, Today, a licensing contract has been signed between Norwin and Tecnometal in Brazil!
April 2010, Read the article HERE about our partner Global Wind Power Ltd. in India - from the April issue of the magazine: Energy Digital!
10 March 2010, Castle House. With immense anticipation, the implementation of the Strata SE1 wind turbines was initiated last week. Installation of blades and commissioning of the turbines is expected to commence shortly.
19 August 2010, Norwin has signed a cooperation agreement with TRC – Tecnologia Representacao e Comercio S.A. in Lisbon, Portugal for sales, distribution and installation of Norwin wind turbines in Portugal, Capo Verde, Angola and Mozambique.
TRC can offer its clients preliminary studies, complete proposals, selection of contractors, technical, legal, financial and contractual advice as well as implementation of projects.
TRC represents large international companies like MAN Diesel and General Electric.
With this agreement, Norwin will take another step in its process of creating a large international sales network for mid-size wind turbines.
Click the logo to read more about TRC!

01 October, Norwin is cooperating with Hong Kong based Jardine Engineering Corporation (JEC) to develop wind turbine business in South East Asia.
Focus of the cooperation will be on special projects for integration of wind in urban areas, as well as on sales, installation and service of wind turbines for the whole region.
With Norwin's detailed knowledge and experience from over 30 years in the wind turbine business and JEC's extensive strength via its more than 3,000 professionals and specialists in engineering and contracting the companies will seek to develop the renewable power sector via JEC's offices in Hong Kong, Macau, China, Singapore, Thailand, and the Philippines.
Norwin's strengths in building integrated turbines from projects like the Strata Building in London and Bahrain World Trade Center are essential for applications in e.g. Hong Kong. And the conventional turbines will be excellent for e.g. hybrid installations in combination with existing diesel power plants on the islands of the Philippines.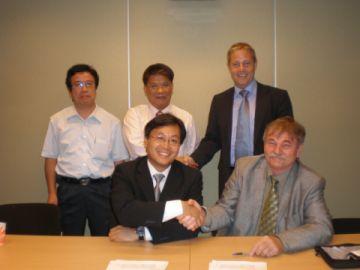 Mr. C.K. Tam and Mr. Per Lading during the signing of an agreement between JEC and Norwin.
In the background: Mr. H.K. Leung, Mr. Spencer Li and Mr. Finn Alsgren