News 2009











November 2009, The 2009 NOVA Award goes to: Bahrain World Trade Center!
The NOVA Award is an annual award instituted by the Construction Innovation Forum (CIF), an international non-profit organization, since 1989, to encourage and recognize innovation improving quality, efficiency and xost effectiveness of construction. Each year several construction projects are nominated - this year there were 35 nominees!
READ the BWTC nomination
READ press release from "Global Arab Network"
30 October 2009, Our licensee Aeronatica Windpower has selected Goss International to manufacture the NORWN wind turbines to be sold on the North American market - click to read the press release from PR Newswire and click on the below picture to read announcement on the Aeronautica Windpower website.

01 September 2009, Running out of space at Industrileddet 13 in Roskilde, Norwin decided to make a move. We have now moved into new premises in a wonderful area, still close to Roskilde.
Our new address is: Kildeager 7, DK-4621 Gadstrup
10 June 2009, 225 Kw Norwin windmill installed and commissioned at the McEvoy Ranch, Marin County, California. 
McEvoy Ranch is the largest U.S. producer of estate-grown, certified organic extra virgin olive oil, and Nan Tucker McEvoy, the founder, believes that we should give back to the earth in equal proportion to what we take, hence, she has always been looking for alternative energy solutions in order to create a self-sufficient ecosystem on the McEvoy Ranch. 
The new windmill is the largest and the first privately-owned windmill in the state of California to power an agricultural facility. It will provide enough electricity to meet the ranch's needs and it stands on the sloping hills on the 550-acre ranch. The site was specifically selected to provide adequate wind but also to avoid impacts to neighbours and wildlife.
Look here for McEvoy photo gallery and read some of the various press releases from:


10 June 2009,the Danish energy magazine "StrÝmstyrke" publised an article about the Bahrain World Trade Center project.
To download the article as pdf, please click on the front page cover photo - the article is in Danish.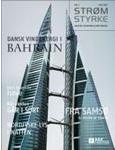 In March 2009, Norwin and Aeronautica Windpower entered into a technology transfer and licensing agreement. The agreement gives Aeronautica Windpower the exclusive rights to manufacture the North American and Caribbean market.
Aeronautica Windpower, based in Massachusetts in the US, is a full service, fully integrated wind turbine manufacturing company that provides mid-scale (65 to 750) turbines and towers, perfect for the market sector of distributed energy, community wind energy and small wind farms.
The first Aeronautica/Norwin wind turbines are expected to be ready for installation in the beginning of 2010. However, Norwin is about to install the first 225 kW wind turbine in California, which is an example of the wind turbine technology that will be available from Aeronautica.
For more information on Aeronautica press here: